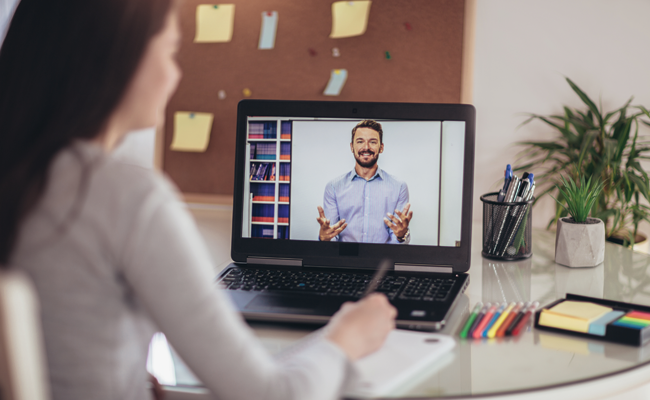 Online master's degree in digital humanities
Take the next step in your calling and your career by expanding your digital skillset. Our fully online, self-paced master's program can be completed in less than two years and will grant you the opportunity to refine your interests in the humanities, while simultaneously developing the technical skills required for the current job market.
You will graduate career or Ph.D. ready with your choice between either a hands-on practicum or a graduate thesis.
Flexible
Self-paced courses let you finish your coursework when it's convenient for you. No need to quit your day-job.
Accelerated
New courses every 8-weeks let you fast-track your master's. Complete our 30-credit program in 2-years or less.
Find the information you need
We're here to help you discover your future
Learn to code, create, and communicate
Wondering what digital skills you can expect to add to your repertoire?
Graduates of our digital humanities program will be able to:
Use Python to code and understand the fundamentals of programming languages
Use Adobe Creative Suite to create content appropriate for social media, print, and digital publications
Understand the stories data tells with the ability to create, use, and analyze data visualizations
Create, use, and analyze geographical information systems in order to make informed decisions
Use digital rhetorical strategies for collaborating and communicating with specific audiences (colleagues, potential clients, customers, parishioners, etc.)
Create and use digital archives
Fully online coursework
Tailor your degree to meet your goals with your electives and personal projects
Customizable electives & your choice between a thesis or practicum
Digital campus, real education
Personal
From the moment you connect with our inquiry management team until you graduate, Concordia is ready to support you in your journey. Our self-paced courses don't mean you're alone. Experienced professors and online student success advisors provide individualized attention and support throughout your entire program.
hands-on experience
Practical
When looking for a graduate degree in the humanities, no one wants or needs just another piece of paper. Our program will set you up with the practical, digital skills required to help you take the next step in your journey. You'll graduate with new tools in your tool belt, increased knowledge in your areas of interest, and a readiness to interact and make an impact in the digital world.
Design & Curate
Unprecedented
Concordia's faith-based curriculum is designed to help you build a holistic, ethical foundation. You'll look critically at digital archives and technological spaces, and have creative freedom to customize your coursework and digital projects based on areas of self-interest within the humanities.
$500 off eligible courses
Scholarships and financial aid are available for alumni and qualifying students